Rarely do we have the chance to interview a legend of rock history that is why I feel extremely lucky to have talked with Bernie Shaw, the lead vocalist of Uriah Heep. Since their first success, in 1970, they have never stopped loving playing and I deeply esteem them.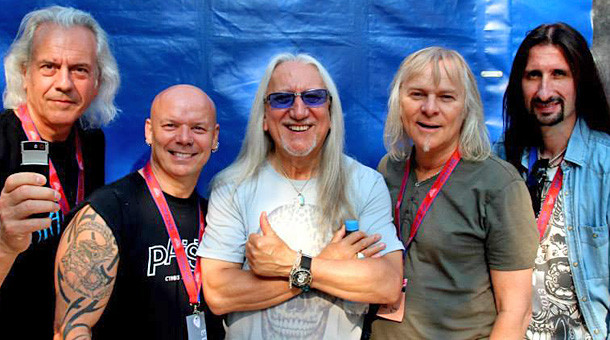 Welcome to Universo Rock Musicale, it is a real honour to have the possibility to interview you! I'm Maria Cristina and I've been one of your fan since I was 14.
One of the thing I have always wondered, since I first read David Copperfield, is why you chose "Uriah Heep", the name of a character of the novel, as the name for the band.
As the band was formed in 1970, it was the bicentenary of Charles Dickens death , and London was full of all things Dickensian. The manager at the time, Gerry Bron, took his son to see the movie David Copperfield. The character, Heep stood out as he was quite notorious, and the name stuck in Gerry's head. When he approached the band with the idea, it immediately stuck as the most popular bands of the day all had "double barrelled"  names. I.E. Deep Purple, Black Sabbath, Led Zeppelin etc.
Recently you've made a live album, "Live at Koko": how do you feel about it?
It turned out great. The fans were great and enjoyed the new songs played that night aswell as all the Classic Heep tracks. The band were on fire, and a great time.
You've been playing for more than 40 years, what drives you to keep on playing?
We are still very passionate about playing, writing and recording. Time and age are irrelevant in the life of a musician as long as you are being productive and current.  I always say we are in the "Peter Pan" business. We are the Lost Boys who never grow up... Too busy for all the stuff.
You've always been famous for your live music, I know that you are used to playing old, classic songs during concerts, however your new albums are a proof that you still crave to give something to rock music and to your fans. How far do you think you can go as a band? Have you ever thought to stop playing?
As l said in the previous question, we are too busy having fun and still being creative to ever think of stoping. As an artist, you dont just wake up one morning and stop what you love. It's a life long decision to be a musician / writer . It's when the fans stop buying your albums, and concert tickets that you should take a look at your career.
You've released 23 albums, which is an outstanding achievement  for a band: what has given you the inspiration to create so much music?
Inspiration comes in many forms and from many of life's experiences. Be it, from a world of fantasy, or real life. 
In your opinion, which is the best album you've made through the years? Is there an album or a song you think it was underrated?
Ooh, hard to answer as being a musician you are personally attached to every record in some way. They mark a specific time in your life and can bring back memories of what was happening in your life at that time. Underrated songs, yes, too many over the years to mention, lost or passed over for a host of different reasons. Lack of record company backing, lack of radio promotion and interest, but you can't be too close to your music. You need to be able to move on, write more, or better songs for the "next big thing".
Uriah Heep, Black Sabbath and Grand Funk Railroad are considered three of the most misunderstood bands of all time, how do you feel about it? Do you think it is true?
I don't understand? Ha! Sorry, no I've never heard that before. Maybe underrated, but not misunderstood. Our stance on our song message, if any was always simple and straight forward. Good will always win over Evil. No politics, no religion, they will alway cause controversy, and we are not in that game. We would never have been invited to Russia, South Korea, many countries in the Eastern Block if we had those issues in our lyrics.
Do you think you are better when playing live or in studio?
Two very different animals, both very rewarding. For me, one is more creative, and the other more expressive. Both very gratifying.
Last year you went to Italy, have you enjoyed the tour? Would you like to come back?
The Italian fans are GREAT! Very emotional and participating. The fact that Heep are a band that LOVE their food and wine, on 99% of our days off in ANY country around the world. You will find us at an Italian restaurant, enjoying great food and a good Valpolicella Classico! Come back again? Can't wait!
Do you want to say anything to your Italian fans?
Gratsi for all of your support over the years! Ciao Bello!!!!
That's all, I want to thank you for the opportunity you gave us. We hope to see you in Italy soon again!
---
[by Maria Cristina Ianiro]